Annunciation and Saints
Lorenzo Monaco
Annunciation and Sts Catherine of Alexandria, Anthony Abbot, Proculus and Francis of Assisi
Author: Lorenzo Monaco
Date: 1410 - 1415
Collection: PAINTING
Technique: Tempera on wood panel
Dimensions: 206x231,5 cm
Inventory: Inv. 1890 n. 8458
Image gallery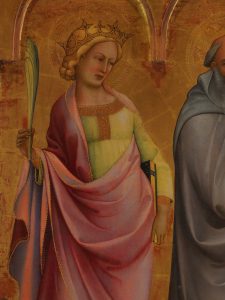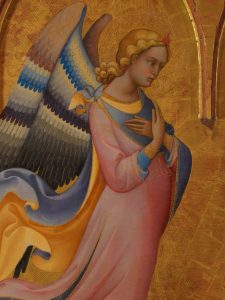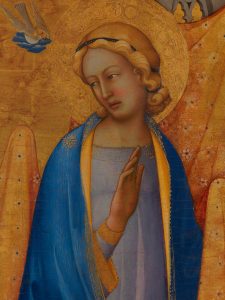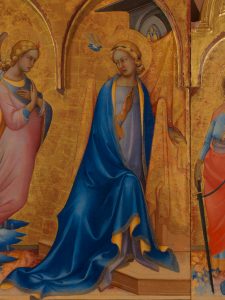 Pietro di Giovanni, better known as Lorenzo Monaco, was active in Florence between 1391 and 1422. A Camaldolese monk from the monastery of Santa Maria degli Angeli, he painted numerous works for Benedictine monasteries and churches. His work is distinguished for his use of a bright, varied palette and his skill at creating contrasts through the expert pairing of the different tones of the hues.
In the polyptych from the parish church of San Procolo, the figures are dressed in the brightly coloured clothing typical of Lorenzo's work.
The central panel of this work depicts the Annunciation and is topped by a tondo with God the Father observing the agitated scene below. The miraculous event is concentrated on and enlivened by the emotions of the two figures. To the sides are two groups of saints: Catherine of Alexandria, holding the palm of martyrdom in her hand and with the cogged wheel at her feet; Anthony Abbot dressed in the garb of the Knights Hospitallers, with a wild piglet at his feet and holding a staff topped by a tau cross; Proculus dressed in his usual knight's clothing and Francis, wearing the Franciscan habit and recognisable by the stigmata.
After the Napoleonic suppressions, the polyptych was cut into three parts. Later put back together in a partly 19th-century frame, it is missing its predella and the tondi from the cusps. One of the latter, depicting the Prophet Isaiah, is now in the Richard L. Feigen Collection in New York.